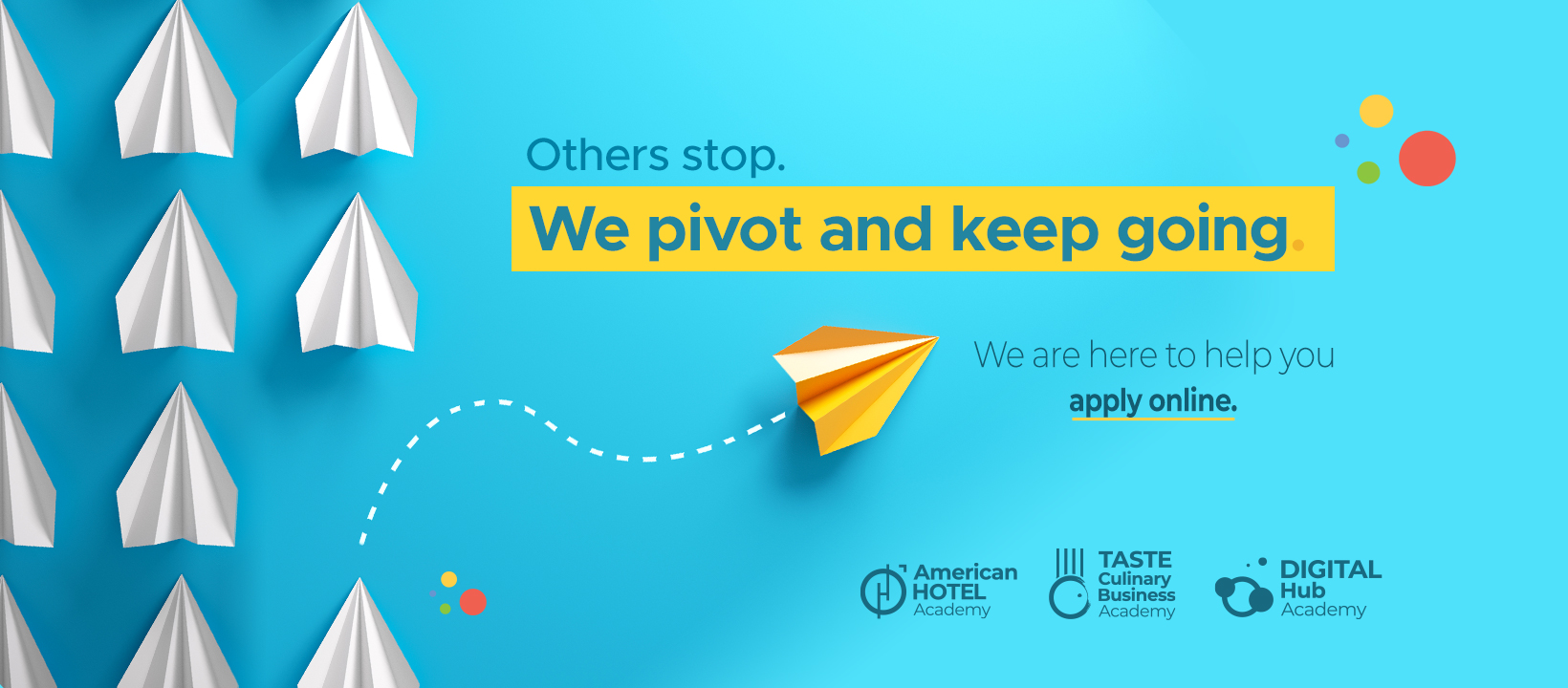 We are here to help you apply online
Flexibility is key in this pandemic period. Every business is pivoting and you've probably already seen every company you follow share their experience. Some have gone digital overnight while others have struggled to keep up but still found a way.
Luckily for us, going digital was already one of our main objectives for the next few years. So when the health and safety constraints imposed by the authorities closed down education campuses, we were able to quickly move our classrooms online. It's been a great ride ever since, but the courses and exams weren't the only ones to pivot.
We recently sat down with our colleagues from the Admissions department to discuss these changes and their impact on both international and national recruiting efforts.
Admissions have gone the same way and in a lot of cases this change has proven to be beneficial for candidates, their parents and our staff.
International Recruitment
The disruption due to COVID-19 continues, and everyone took a hit when being forced to stay at home for the greater good. Admissions for international students saw almost no change since they were already held online due to distance constraints.
"Basically, there is no difference in the admissions process, but we do have some changes that benefit the international students" says Felicia Forte, our International Admissions Counsellor, referring to the faster scheduling of interviews. "Now, we are able to process and schedule meetings and interviews in shorter time intervals than before the pandemic period." It's the work from home culture that has granted more flexibility to everyone and is therefore advantageous, especially for international candidates.
The uncertainty caused by the pandemic has placed a greater emphasis on communication, as we strive to communicate everything about the virus and its effects on everything related to admissions, from visa laws to the procedure itself.
Felicia continues to counsel students, albeit with a slight change. "If until now we could give information via email, now with so many changes and uncertainties, it is mandatory to establish a Skype or Zoom videocall, just to clarify the term of admission and to explain the scenarios that might happen until the beginning of the academic year."
Visa applications are impossible at the moment, as border restriction both on a national and EU level bar travel from other countries. That doesn't stop us from being prepared, as Felicia positively reassures: "We prepare the mandatory documents for the application and we are keeping them on hold. The safety of our students is our first priority and for this reason all our actions are taken to assure that they will have the same great experience as before and a safe journey."
National Recruitment
While international recruitment saw very little changes, national recruitment had to pivot even though distance constraints were never a factor despite most candidates being from other cities.
"Well, to be honest, it wasn't really that difficult" says Mihai Movilescu, Head of National Marketing & Admissions, who spoke to us about going digital and how these changes impacted the admissions process. "We weren't going to let all our candidates down, so we found a way to pivot and go 100% digital. We communicated clearly with all the internal stakeholders and put together a process that could be implemented quickly. "
The process had to be moved online but it remained quite similar to what everyone was used to. The whole process is made more efficient through time availability and travel cost cutting, but the main advantage is the safety of everyone involved in this process.
Admissions are more or less the same, according to Senior Admissions Officer, Teodor Berszan. "They are organized almost the same way they've always been. To respect the safety precautions imposed by the authorities every admission is online, interviews are held on Zoom and the English test is taken on the Duolingo platform. In the past, candidates would visit our campus for the interview and take the exam on our devices if they didn't have an English language certificate."
He tells us that the change had absolutely no negative effect on the candidates as they were used to video calling apps from school. Mihai agrees: "We have to start from the premise that the current generations are truly digital natives. Instant messaging is in their DNA. Email is almost obsolete to them."
"We have multiple channels open to them – "classic" phone calls, WhatsApp, text messages, email, Facebook Messenger, they're all open. I think candidates are almost happier this way. Parents can also reach out using these channels, but they mostly prefer calling us."
Submissions of documents via email, online English test, online interview. Not much change in the process then, except that it takes place on the candidates' devices.
That is not a problem though, according to Mihai: "The thing that has changed, though, is the fact that now candidates have to use their own laptops instead of ours, and sometimes that means that we have to guide them through a set-up process, but it's quite straightforward. If somebody runs into any technical problems, we just log on to their computer remotely and help them out. Easy peasy. 😊"
Pivoting to online has to have its deficiencies as well. We asked Teodor about them.
"Deficiencies is too strong a word, in this case I'd rather name them small desynchronizations of our utilized hardware and software. Also connection to the internet, which is on high load lately in Romania, causes some problems but not so much as to influence admissions. We're handling every technical matter with patience and a professional attitude, we're here to support each candidate and offer them all the information they or their parents might need."
"I'd also like to mention preCampus, a new platform upon which future students are connected with everything related to student life even before they begin attending courses."
So as these changes seem to work, it begs the questions whether admissions will remain the same come autumn? Mihai has an answer. "The online interview was always available to candidates who couldn't come for a face to face interview, and it will remain that way. Onsite interviews have their advantages, though. Candidates and their parents get to see our academy and its facilities, and there's nothing quite like having a nice chat over a delicious cup of coffee to kick off the next 3-4 years of their journey."
Conclusion
COVID-19 has disrupted the normal functioning of things. Much like everyone else, we strive to be flexible and continue to offer our services. Education is of the highest importance and this is reflected in the private and public sectors as well, through all the steps taken ensure a safe and proper continuation of education options.
In this regard, higher education is no different, when you take into account its defining role in people's professional future and that is where we come in. We will continue to adapt to the current situation and make sure that our educational offers will remain a viable option for everyone that wants a career in hospitality business / culinary business / digital marketing.