event
A traditional event
Welcome Week
Welcome Week is always organized at the beginning of the academic year, with the help and involvement of senior students (Student Ambassadors). Through this period, all first year students take part in the orientation program that introduces them to their academic curricula, student services, student government, internships, rules and regulations, dress code, on campus facilities, lecturers, staff, colleagues and many more, everything with a mix of social activities which are meant to connect all American Hotel Academy community members. For the existing students it is a "welcome back" to school when the curricula for the next academic year and the new lecturers are introduced.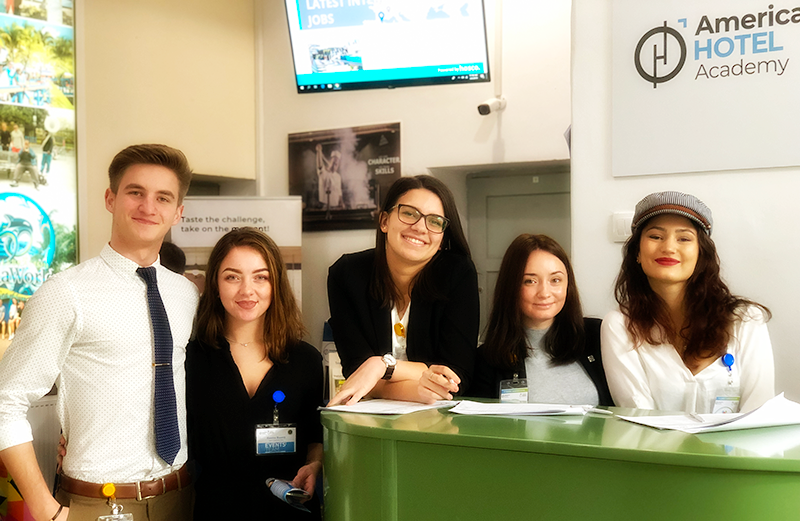 learn
Briefing Sessions
• Induction and enrollment;
• Full timetable for the academic year;
• Campus orientation;
• An introduction to the program of study by the Head of Programme and the Academic Tutor, including the opportunity to discuss students' expectations of the program and programs' expectations of its students;
• Presentation of the school's regulations and student handbook;
• Services & support available from the Student Engagement Office and Student Government;
• Library, Industry Placements, Career Development and Counselling Services;
• Social opportunities within the school, recreational facilities and 'where to go' in Brasov;
• Formal and informal opportunities to meet other students and academic staff on their program.
Resources
Resources and Online Access
Counselling
Student Counselling
This activity provides a safe place, separate from the student's daily life, where they can explore issues or feelings which are causing them distress. The counsellor will relate to you in a supportive and purposeful manner and assist you in the task of finding their own way forward. She offers you understanding, a chance to be listened to, valued and accepted in a non-judgmental way.
To whom?
This activity is available to any student experiencing emotional or psychological difficulties relating to academic, personal or social problems.
Regardless of the student's background and whatever difficult situation you may find yourself into, we are here to offer you both space and our full support, in a confidential environment, to work through these difficulties.

Mrs. Ana Leah
If you need counselling please contact:
learn
Your VOICE!
Student Government
All for one and one for all!
Student Government is an entity created by the students for the students with the purpose to facilitate a close connection between them, the faculty and the administrative staff. The aim is to provide opportunities for shared governance, career and personal development, as well as social events and activities, from thematic parties to community service and assistance.

Lead or be part of the Student Government
At the beginning of each academic year, the students who want to make a difference run for the Student President position. All the other students vote for their preferred candidate after attending the presidential debate, during which each candidate shares his/her vision and governing plans as well as answers questions from the audience. Any student can be part of American Hotel Academy's Student Government! Anyone who would like to get involved and make a difference gets the chance to apply for a member position in one of the departments.
Don't be shy! If you enjoy talking to people, solving issues, working in teams, or just having creative ideas, you have a place in the student government!
voice
Student Voice
Tell us what you think – your VOICE is heard! During the academic year, our students have the opportunity to give us feedback about their student experience, using different channels: