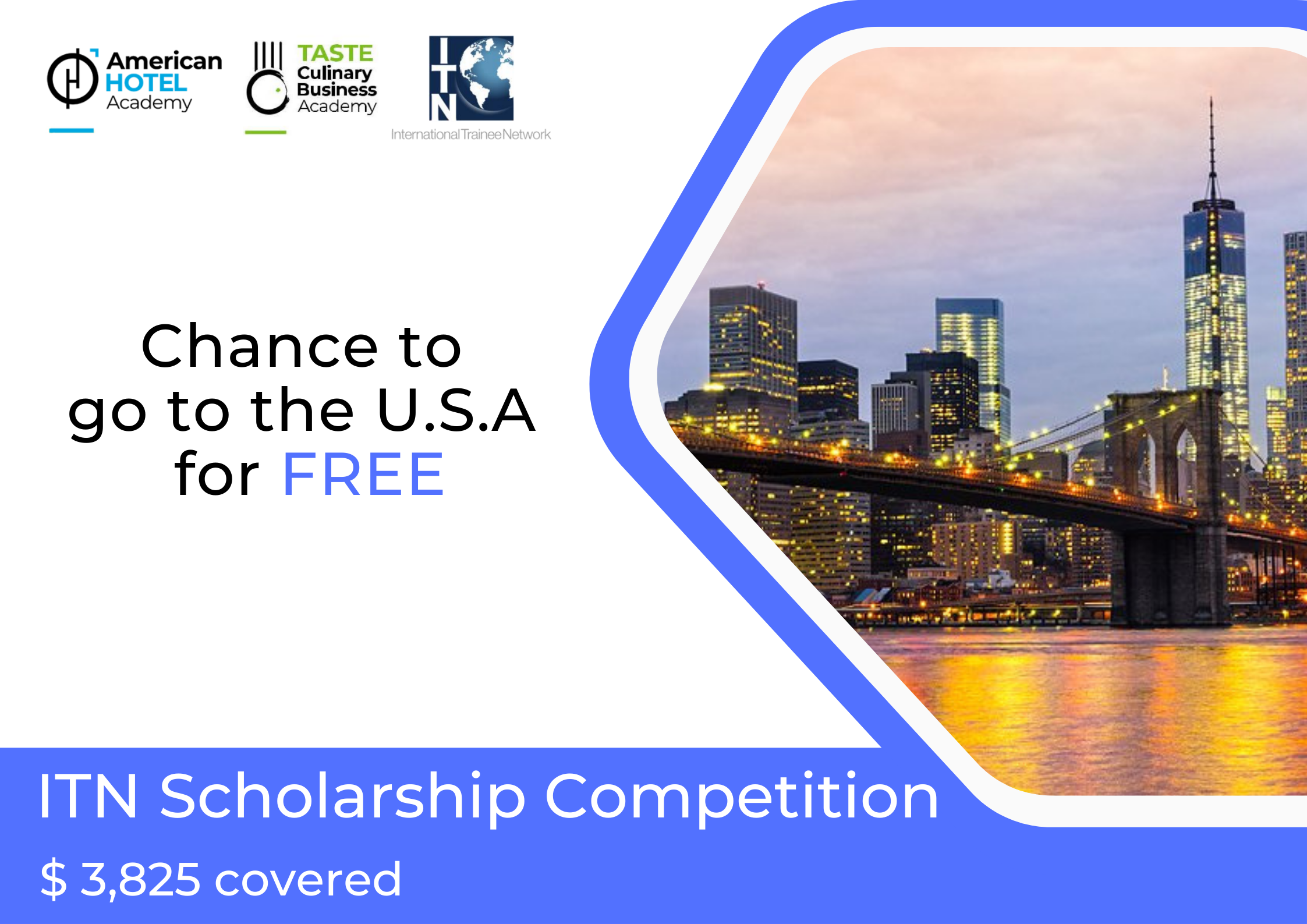 ITN Scholarship Competition 2022
In this post, we're going to cover the ins and outs of the ITN Scholarship Competition. The 2022 edition brought about a few changes to the delivery of the scholarship application. Students had to abandon any thoughts of creative video shooting and editing and refocus on a more business-oriented project using a certain framework (we'll get into that later). Let's not get ahead of ourselves and start right at the beginning.
What is the ITN Scholarship Competition?
The ITN Scholarship Competition is already a tradition at American Hotel Academy, and more recently at TASTE Culinary Business Academy.
It involves a contest meant for our 2nd  and 3rd-year students, as well as recent graduates of our BA, and AHA's BA and MSc programmes. The winners get a 1-year internship in the USA, meaning $3,825 covered in costs by our longtime friends and partners at the International Trainee Network (ITN) from across the Atlantic.
So exactly what costs are covered?
Winners receive full discounts on the programme fee, including:
Personalized research to find the ideal Host Company.
Placement for a paid internship program in the USA.
DS-2019 Immigration form.
Medical Insurance for the duration of the stay.
Eligibility check for the J-1 Program.
Prescreening interview with ITN representative to test English level and program and discuss expectations.
Skype interviews with potential Host Organizations.
Assistance with J-1 Filing Application.
DS7002 creation according to the Host Organization's specifications.
DS2019 issuance and medical insurance for programme duration.
Preparation tips for the visa interview with the US Embassy/Consulate.
"Arrival Package" which includes information regarding the Host Organization, housing, and the local community.
24/7 support through ODYSSEY International Exchange.
What about the contest?
Starting this year, the contest went under a few changes to make it more business-oriented and aligned with our values of growing the business leaders of tomorrow.
The contest had 2 phases.
In the 1st phase, students had to submit the following documents:
Professional CV/Resume – according to the ITN template
Cover letter – detailing why the applicant is the best candidate for the scholarship
Letter of Recommendation
Business Plan – A business idea on how the applicant would invest $20,000 in a business in Romania using the Business Model Canvas.
After the submission deadline, each application was reviewed by a committee consisting of:
Sebastian Georgescu, our CEO
Anca Georgescu, our Marketing & Admissions Director
Ana Leah, our Director of Organizational Development
Corina Zamfir, our Career Counselor
Paula Gagea, our Career Counselor
The best ones were selected for a showdown in Phase 2. It entailed the presentation of the Business Model Canvas in front of the committee.
All this was only a part of the evaluation standards as a few more factors came into play:
Easy to understand, correct, and clear English used in the project.
Clear motivation of why a student wants to go to the USA.
Academic standing (student grades).
Realistic and well-documented business plan.
Confidence of the student during the presentation.
Clear presentation of the business idea.
Now let's back up a bit. What is the Business Model Canvas? We'll explain shortly below.
Business Model Canvas explained
There are many great explainers for the Business Model Canvas, especially this one which goes into it at great length. We'll keep our explanation short and sweet because our focus is on our students' presentations.
Business Model Canvas Template
The Business Model Canvas is a great visual framework and tool used by many modern businesses to assess their capabilities and core elements of their business at a glance.
It's essentially an easily scannable version of a Business Plan. It shows how a business makes money.
With the left side focusing on internal factors, the right focusing on external ones, the middle depicting the value propositions (more on those later), these can all be broken down into 9 components, detailed below.
The 9 components of the Business Model Canvas
We'll break down each of the 9 components, listed below. The order of the components is not necessarily the one we used, however we preferred it this way since it gives more context to each business presentation.
Value Proposition
The single differentiator (if you have more you're awesome) that makes you stand out from your competition. Ideally, this is a unique element of your product/service that no one else has.
Most often it's either an extra element added or the delivery of the certain element in a much faster way. Higher quality is also a differentiating factor. The key is in the first word: value.
Whatever offers value to your customers could be considered a value proposition as long as it offers more or better value than your competitors offer.
Key Activities
The day-to-day operations of your business, these activities define your value propositions plus any additional activities that round out your product/service.
With high-competition in almost any industry nowadays, say hospitality or culinary business, key activities are likely to look the same. Think of hotel rooms, menus, etc. The exceptions are the few activities that differentiate yours from competitors.
Customer Segments
The customer segments are a the group-type of customers that you are creating your messaging for.
When developing a business plan it is crucial to clearly and concisely define whom you are selling your products/services to. These can be multiple specific groups.
These segments are defined as specifically as possible, including age range, job titles, preferences, psychographic information, role in the buying process, and many, many more.
Channels
By channels we refer to channels of communication. This component gives details on the what, where and how the company communicates with its customers.
Channels come in all shapes and sizes, ranging from traditional ones such as face-to-face, phone, mail, dare we say it: fax (what's that?), to modern ones such as website, email and social media.
Customer Relationships
This section deals with how you manage your relationship with your customers. A customer journey map is useful here and it's very important to know how and when you communicate with your customers.
Aside from a good product/service (duh), customer service is one of the 3 core pillars of business success along with financials and marketing, so it's among the primary components that need to be well polished from the get-go.
Key Resources
Resources also come in all shapes and sizes. The main ones are workforce, money, and time. The others are specific to each business and can refer to raw materials, staff, equipment, software, and so on.
Key Partners
All businesses need help. The key partners of a business are there to ensure that anything the business can't do is handled by them.
These can be outsourced processes, departments, basically anything that is crucial for the business to run but is not part of the organization.
Cost Structure
If you know a business that has no costs, give us a call. We'd definitely like to study that one and invest.
Costs vary as much as businesses do. Key partners can be a cost based on fees. Resources are also a cost. Workforce. Channels. Equipment. Even revenue has its costs.
Knowing its structure and every little detail will help spot opportunities and maybe even cut some that are not important for the business or without which the business can keep running at the same level of quality.
Revenue Streams
The all-important revenue. If you don't have a good way to generate revenue, the rest doesn't really matter. Yet getting that revenue depends heavily on your business idea, value proposition, key activities, and of course your customer segments.
The easier it is to get the money in the bank, the better the chances for your business to launch well even if you're losing money in the first few years. This is normal in business.
Get the full lowdown here: https://creately.com/blog/diagrams/business-model-canvas-explained
With all the elements explained, let's get into what matters: the presentations.
Andreea Ciobanu – Digital Wellness Platform
Andreea Ciobanu, our student, created her project around the brilliant idea of a Digital Wellness Platform. The business model canvas discussed the key proposition, key activities, customer segments, revenue streams, cost structures, key resources, key partners, and channels.
To start, the value proposition, as defined by her, is how her product will make the customer's life happier. This digital wellness platform's purpose is to aid the customers with any existential information needed when making decisions based on the perfect location for an experience they desire. Andreea also underpinned the need to form this platform into more of a lifestyle rather than just a product for the customers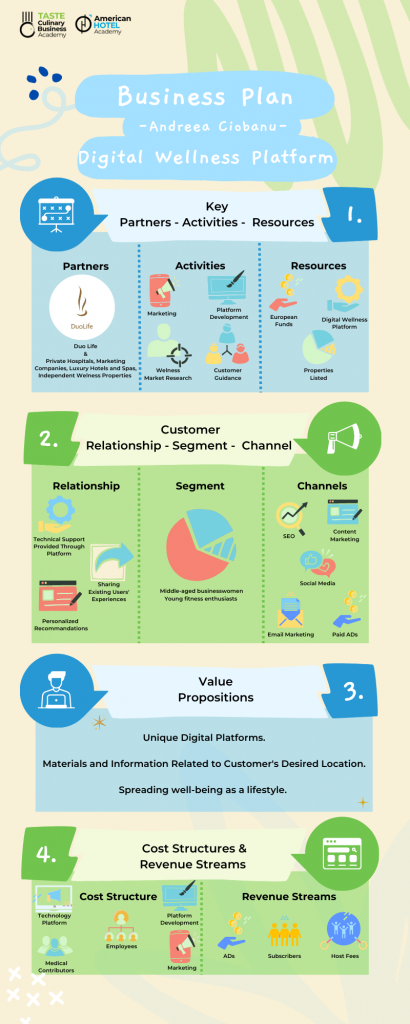 When it comes to key activities, Andreea mentioned her vital strategies in order to achieve this including marketing, platform development, wellness market research in Romania, and customer guidance towards wellness properties.
When brainstorming who her ideal customers are, she came up with the perfect customer segments for her business being two relatively different potential customers such as a middle-aged businesswomen and young fitness enthusiasts.
Then the channels used to reach her customers were mainly social media platforms, content, SEO, traditional marketing, etc.
The resources needed for the platform to work, or the key resources, would be the investor European funds, digital wellness platform, a wide variety of properties listed and more.
The key partner Andreea chose in order to get a competitive advantage is the committee of doctors from "DuoLife". Other than that, she also listed private hospitals, marketing companies, luxury hotels and spas, and independent wellness properties.
The amount of planning she is willing to spend on the platform's development would depend on the technology platform, medical contributors, platform development, employees, and marketing. This is her cost structure.
Then come the revenue streams, Andreea describes them as the amount her business is planning on earning, stating that advertisements, weekly subscribers, and host fees for top ranked properties were her streams.
Andreea's organizational skills exceeded in this project proving not only written organization which is easy to comprehend and connect yet also visual organization which stood out, showing her capabilities of really understanding the main deliveries.
Mihnea Velescu – Moustacos
Mihnea Velescu, also one of our students, presented his creative idea for a food truck named Moustacos.
"Sexiest tacos in town" – Mihnea Velescu
What is Moustacos? Mihnea's brand identity states that it aspires to be a well-known food truck that serves Mexican cuisine inspired by Californian food culture.
When it comes to the brand persona, Moustacos wants to be known as affordable and accessible which makes it a little bit difficult to limit its audience.
"Sexiest tacos in town" is the quote given by Mihnea for the value proposition. Why sexy? Well, it's the fresh ingredients that make it so attractive to the customers. Other than that, Mihnea made sure we get to visualize Moustacos and its menu by using a lot of images created by him.
For the value proposition to work the key activites must be done right, so knowing more about Mexican cuisine is truly crucial Moustacos' case. The activities also include food production and selling.
Who is the main audience for Moustacos? That's where the customer segment comes in. Even though Moustacos welcomes any type of customers, the two main ones are defined as Corporate workers and Event halls.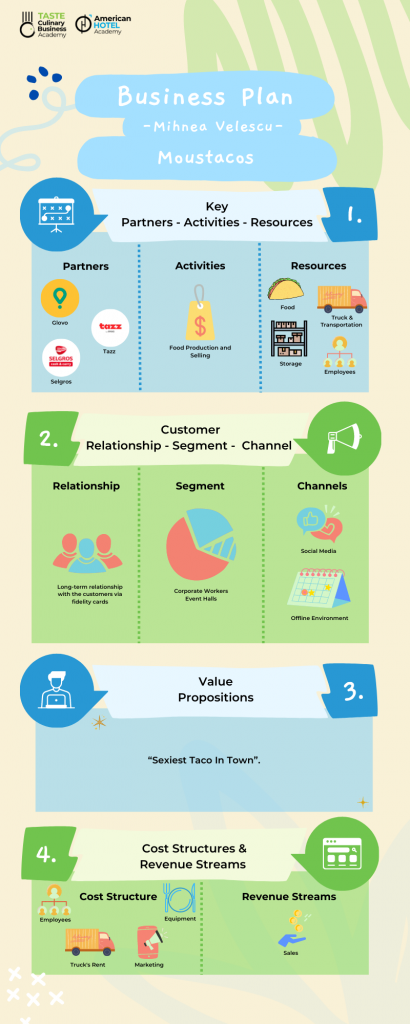 The channels through which they will be reached are multiple social media platforms.
But how is the relationship with the customers? Mihnea finds this relationship vital for his business. He wants to build a long-term relationship with each and every customer.
When it comes to key resources, physical resources such as food, a truck, transportation, and storage will be required for the value proposition that was stated earlier.
The key partners would be two widely known Romanian delivery services, Glovo and Tazz, as well as Selgros.
The most significant costs incurred when it comes to cost structure is the truck which is going to be rented rather than directly bought.
The customers willingly will pay for this authentic Mexican cuisine experience, thus having the revenue streams covered.
Mihnea has amazing use of visual aid in order to help visualize and imagine the brand being shown as well as great detail and understanding of the Business Model Canvas.
"The clearest mornings start with the sun up" – Paula Roatiș
Another one of our students, Paula Roatis, discussed her innovative hotel idea named Soleil.
"The clearest mornings start with the sun up" is the quote Paula stated when it comes to the value proposition. In other words, Soleil's main purpose is to make sure every customer morning at the establishment is the best they ever had. Yet what does Soleil have exactly to offer? That is where the key activities come in. Paula describes it as fifteen apartments, a conference room, a restaurant opened just for breakfast and a bar opened just in the evening/night as well as extra services.
What type of customers is Paula looking for to enjoy her hotel and premium morning? The customer segment is all about that. Soleil is intended for couples/married couples/and even single people. All in the age range of 18-65 years.
In terms of communication, or channels, other than social media platforms brands such as Airbnb and Booking.com are main channels for Soleil.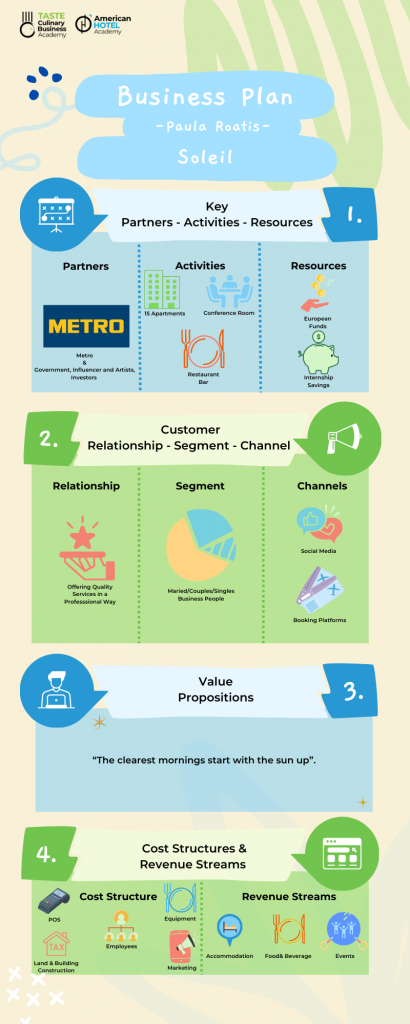 Paula really takes great value and pride in her customer relationships. Soleil's goal is to establish a strong relationship with each one of its customers in order to integrate it as a lifestyle.
To sustain all these costs, Soleil will benefit from European Union funding, being its key resource, as well as the employees needed to sustain the services.
Along the multiple brands mentioned the one that stood out the most from all Key Partners is the renowned brand Metro that she strives to work with, as well as the Romanian government, influencers, artists, and investors.
Regarding the cost structure, Paula states that Soleil's most important costs are the land, building constructions, the designers, all the bar/restaurant/laundry equipment, employees' salaries, POS systems, and marketing fees.
The customers are paying for quality, originality, and world class service. Thus, revenue will be generated from accommodation, food & beverage, and events.
Paula did an extraordinary job when it comes to details making sure each step of the business model canvas was covered to the fullest. Both emotion and determination were presented when Soleil was discussed showing the confidence in the product presented.
Peter Robert – Robert's Burger Joint
TASTE Culinary Business Academy student Peter Robert brought his "Robert's Burger Joint" to the presentation.
All the ingredients were there to create the next best fresh burger joint in town. That's his value proposition with added seasonality, uniqueness, consistency and quality to the mix.
His key activities were production of course, along with problem solving and networking activities.
Described as the perfect meal for office workers due to its quality, price and convenience, it will target 3 main customer segments.
Working class – people aged 25-50, making up almost 50% of the customer mix.
Young people – peopled aged 10-25
Senior people – people aged over 60
Robert believes that thanks to delivery apps it will be easy to reach the main segments, especially the first two. This leads us to channels.
We already mentioned delivery apps, but leaving nothing to chance, Robert plans to use the joint's website, app, and social media channels to reach his audience.
Once customers are acquired, "personal assistance" type of service will define his customer relationships. The goal is to make them regulars who will be very well treated and whose input will be taken into consideration.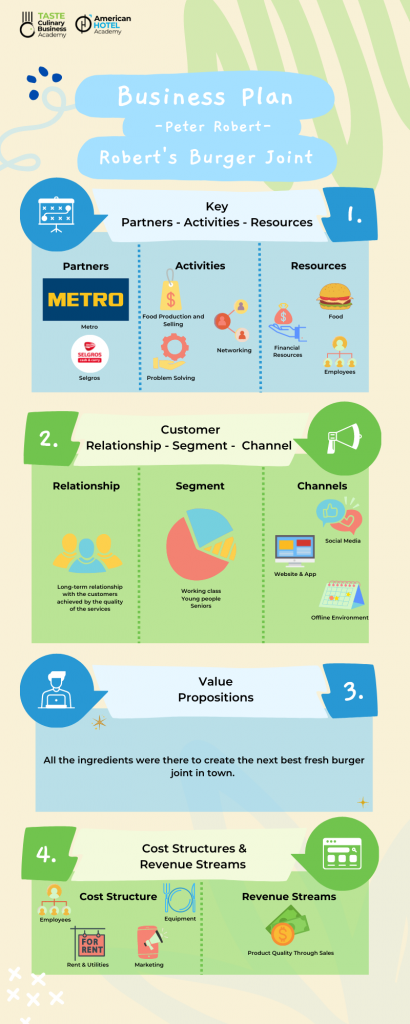 Key partners and resources are closely linked in the case of Robert's Burger Joint. Partners will consist of raw ingredient suppliers such as Selgros and Metro, as well as suppliers of high-quality equipment. The main ingredient, Black Angus beef, will be provided by a separate supplier.
Resources involve anything and everything from human resources to financial ones.
"In the beginning, ingredients and equipment are a fixed cost because you need to build up your inventory from zero,
but as sales are rising you might need to buy more or less and replace the equipment that breaks down."  – Peter Robert
Let's get down to business with cost structures. A restaurant is a high-cost establishment, but Robert's got it covered. Equipment, fridges, basically the whole infrastructure of a kitchen round up to 20,000 euros.
Utilities and rent amount to 6,000 euros, while labour will go up to 4,000 euros. Robert also considered advertising as a high-cost activity together with ingredients and equipment. His theory is that "In the beginning, ingredients and equipment are a fixed cost because you need to build up your inventory from zero, but as sales are rising you might need to buy more or less and replace the equipment that breaks down." 
This leaves us with the most important component: revenue streams. The burgers will be the main fixture on the menu, with a competitive price. Anything that won't sell will either be replaced or have its price reduced in order to gain popularity.
Burgers are a competitive market in Brasov, but Robert seems to have it all figured out. His combination of high quality and freshness are bound to turn some heads in the market. Couple that with his unique take on customer relationships and we're already standing in line for his burgers in our hearts.
''Quality and prosperity. Freedom, lifestyle.'' – Raul Neagotă
IFO, a platform that intermediates financial services in order for people to reach their financial goals, is Raul's business idea.
His idea further adds value by creating "plans in order to educate the population financially so that they live a healthy life from a money-wise view, without loans or liabilities, being safe throughout the whole journey if financial hazards appear. The funds of 20.000$ will be distributed in order to create the infrastructure of this business."
''Quality and prosperity. Freedom, lifestyle.'' are his value propositions. Simple, easy to understand, and liberating.
IFO's key activities involve "Analysis, Consultation, Service" or ACS for short. It's a 1:1 service that create the perfect plan for the customer to thrive and coach them along the way.
Analysis introduces the service and gets to know the customer and their financial and life goals. Consultation presents the plan tailored to each customer in order to meet their goals. This is where they get to decide whether to work with the service or not.
Once signed on, the actual service starts, where customers will get to follow the plan and be coached along the way.
Raul's business will target working people. His business' relationships with the customers will be similar to a "doctor-patient" one, involving consultations, check-ups, and offering the best path forward. IFO will use a "Maslow's Pyramid"-type approach toward financial independence.
The business will reach its clients with the use of telephone, mail, direct contact (where possible), and video calls.
IFO's key resources feature its high performing sales people as well as online platforms, money tracking platforms, video meetings and management systems, all of which are vital to run the business.
Key partners will be:
Education Partners – Pro Fiduciara – They will train and certify IFO's personnel and services.
Product Partners – insurance companies, banks, investment funds.
Just like a financial pro would tell you to do with your business, Raul split his costs into fixed and variable costs. Fixed costs cover platform subscriptions and wages while the variable costs include events, team buildings, commissions.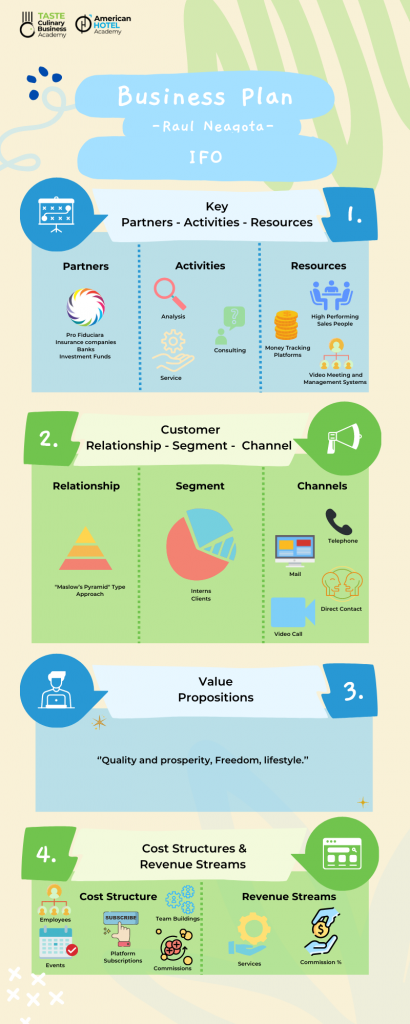 IFO plans to generate revenue streams, firstly, from its services, and secondly, from a commission charged by the consultants if they intermediate financial services to the clients.
Raul's IFO has all the bases covered. His approach leaves nothing to chance and we're confident his business would give his competitors a run for their money (pun intended).
Tamira Lotrean – Man go Crazy by Tami's Food Truck
Our student Tamira Lotrean has thought about a wide range of products to offer with her food truck.
Her value propositions involve food and drinks as well as "promoting a new era of energy independence" with a range of green energy batteries called Mango Power units.
Her key activities would be traveling the country with the food truck and selling her gourmet and specialty coffee products during the day and alcoholic shots with hot dogs and fries during the night. Her customer segment will be made up mostly of youngsters spending time outside or at festivals. A good segment for her mango power units would be entrepreneurs looking for an alternative power source.
She plans to reach these customers by being at strategic locations such as seaside walkways, festival food courts, etc. Social media is also part of the plan.
Her products would also reach customers via 3rd party retailers. Tamira's plan for customer relationships will be based on trust and friendship given the feel-good surroundings of the food truck.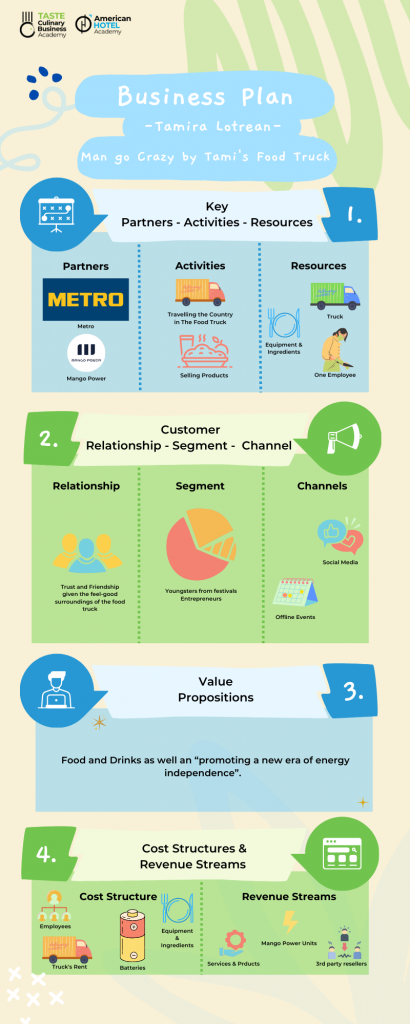 Her key partners will provide the most of her resources: Metro and Mango Power (green battery supplier). She'll need the food truck of course, as well as equipment, 1 employee, and the raw materials for the food products.
Her cost structure comprises mostly of the lease for the truck and the rent for the land she will park her truck on. Other costs include employee wages and raw materials as well as the batteries she will sell.
"Promoting a new era of energy independence" – Tamira Lotrean
Tamira will generate revenue from 3 sources.
Her gourmet food and drink products
The mango power units – receiving 20% of the sale as commission
Third party resellers of her products.
Tamira's idea of food truck by day, party truck (shots and snacks) by night also adds the mango power unit to her mix, making it a very versatile business with 3 revenue streams.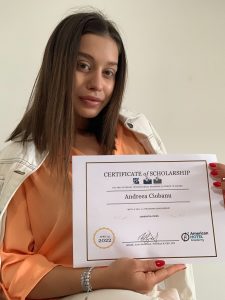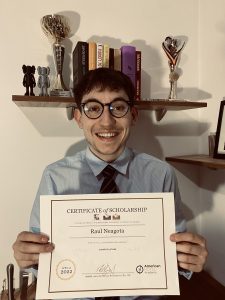 All ideas, business model canvases and presentation were clear, concise, contained relevant and realistic information and were great ideas in general.
To us, everyone was a winner, but rules are rules and this year's 2 winners for the ITN Scholarship Competition were:
Andreea Ciobanu and Raul Neagota
We would like to congratulate both on this great achievement and wish them a great experience ahead!
The USA awaits!