Event Preview – Internship and Career Event 2022
Let's go back in time together. It's the 19th of November. We're at American Hotel Academy, at the ✨ Internship and Career Event  ✨ – an event about our student's experience during their international internships.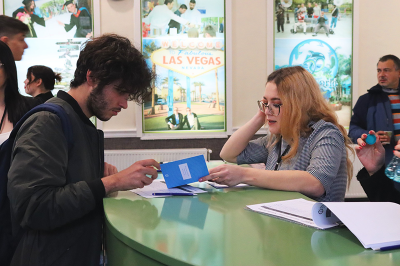 (Almost 😊) everybody got here until 12:00, and our student ambassadors at the reception took care of their check-in and gave them their passports. We'll tell you more about the importance of the passport in a moment.
Early birds had a chance to enjoy a coffee and a some snacks before the presentations started. ☕
At 12:15 our students started their presentations. It was so fun to hear about their adventures in Europe, and what impact it had on their personal and professional lives. So many amazing stories! 🌍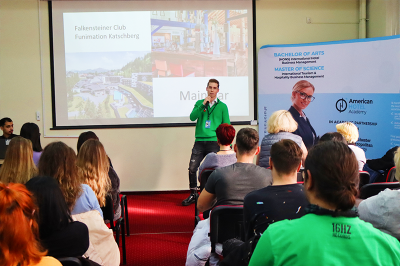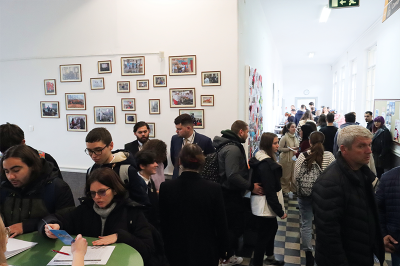 After the presentations, we took a break for some more refreshments and our dear guests were taken on a school tour – to see our bar and culinary labs, our classrooms, the career office, just as they would as future students. 🚶‍♀️🚶
Also, our students that held presentations were seated at thematic stands based on the country they had their internship in. 🛬 Guests had an absolute blast talking to them directly and finding out more about the hospitality life and how it feels to go on an international internship.
This is where the passport comes in. 🛂 Students could get stamps from each country's stand. If they collected all the stamps, they got a prize at the end. Cool, huh?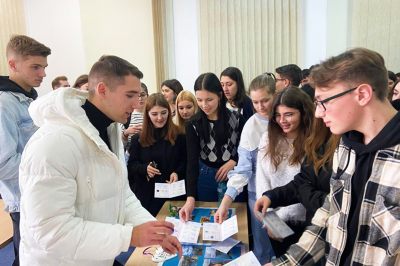 At 13:20, our second group of students had their presentations – some from Europe and some from the U.S.A. How great is that? 🌎
The U.S.A. internship presentation in particular impressed many of our guests. We don't hold it against them. Respectfully, we know our stuff. We made sure that the internships we offer are lifechanging. (Keeping it humble. 😊) And yes, our students can go to the U.S. on a 12-month internship. (hint hint 👀)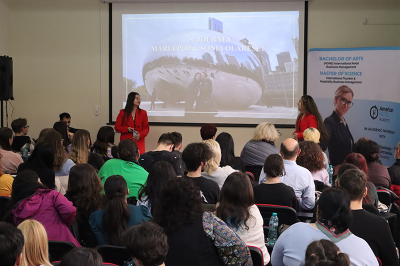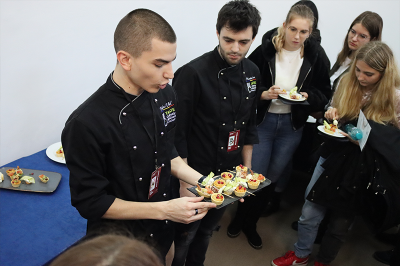 Finishing the student presentations, we had another break where guests could visit more booths, including the U.S.A. one and chat with our students directly.
This is the break in which we were blessed 🙏 by the TASTE Culinary Business Academy students, who prepared some delicious canapés for our guests. We can also confirm that they were to die for. 🤤
After the final break, we had a fun little presentation from our career office, which is responsible for our student's internships and career development during the academy. The guests could find out more specific details about the process of going on an internship, their options, and much more. 🧳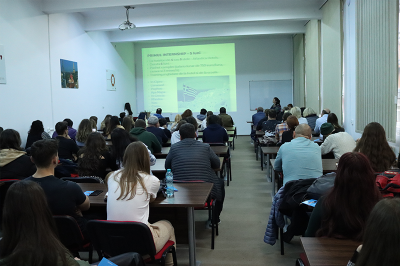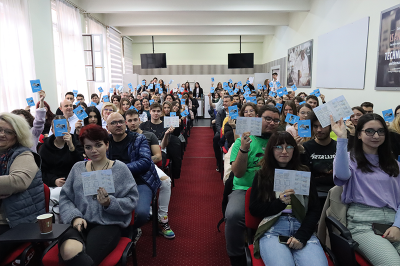 At the end of the career office presentation, we handed out prizes to the dedicated individuals that collected all the country stamps from the stands. 🎁
15:30. Here's where it all ended. We took some pictures, welcomed some new future students to the #ahafamily and said our farewells. This is just a short preview of how our events go. It's been a blast and we can't wait to welcome YOU to our future events like this. Join us! 💗
If you think you missed it, think again. We're doing another Internship and Career event in February 2023. Sign up by clicking here!